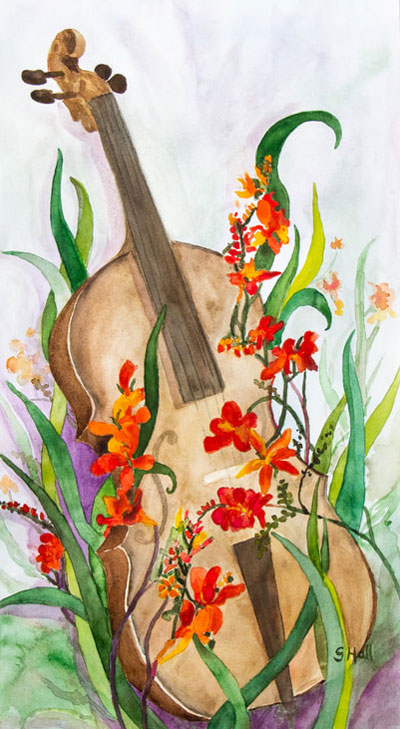 Much appreciation to Gay Hall for the artwork CMC 2021-2023 brochure!
Chamber Music Corvallis is thrilled that Gay Hall accepted our invitation to paint a cover picture for our brochure. Please notice the bright beautiful croscosmia surrounding a cello on the cover. Specializing in flowers, paintings by Gay have been shown at the LaSalls Center and other venues in Corvallis. She and her husband Cliff have been long supports of CMC. At present you can see additional paintings by Gay in the LaSalls Center.
Here's her response and two more of her pieces for your enjoyment:
"I want to express my thanks to CMC for the opportunity to create the cover design for their current brochure. It was an honor to be asked! Cliff and I have been avid chamber music fans for over 25 years. We feel so lucky to have such wonderful world class musicians perform here.
Art has been a passion of mine since childhood, but this is the first time I've had the chance to combine my art with music. I enjoyed painting a cello (played by 3 family members) surrounded by crocosmia, a vibrant red orange perennial that grows rampant in our gardens.
Being a member of Vistas & Vineyards, a local group of artists who work outdoors, has really honed my skills by interacting with and observing some fantastic artists.
We are so excited to attend live concerts once again!!!
Gay Hall"
Please take a look at her paintings below!